Building your new home the Brigon way.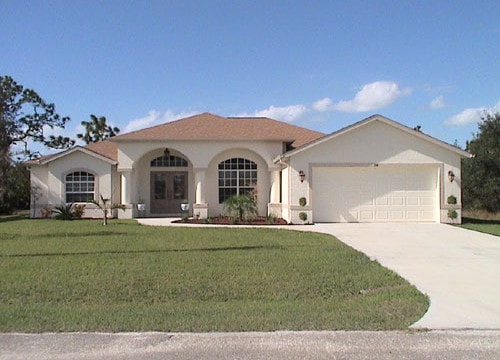 Building a new home is one of the most exciting things you can do. But how does it actually work? What are the steps? How long does it take? Well, we can't speak to how other contractors handle the process, but we can tell you what to expect when Brigon Homes builds your new home.
PRIOR TO CONSTRUCTION
At Brigon Homes we have many pre-designed floor plans for you to choose from. Since there is no need to start from scratch with an architect this saves you time and money right from the start. We realize that you may see a model that you really like but one that may also need a few modifications to fit your needs. No problem. Tell us everything you're thinking. We can adjust your floor plan to fit your lifestyle. The bottom line is that we want you to be completely happy in your new home.
Where do you want your home to be? You may already have an idea. If you do, that's great. If not, we can help. We've been building homes in the Charlotte County area for many years and while doing so we've become well acquainted with the real estate landscape here. If you need us to do so, we can educate you about the advantages and disadvantages to different areas, tell you about zoning laws that may affect you, inform you on economics, and help you with the purchasing process.
Also, by hiring Brigon Homes as your general contractor, we are responsible for all aspects of construction. Once the paperwork is completed we will handle everything in a professional way keeping you as involved as you'd like to be every step of the way.
THE CONSTRUCTION BEGINS
The first step is to prepare your lot for construction. Vegetation is removed where needed. Ground is leveled. Stakes and lines are placed according to the blueprints. Brigon Homes are constructed using concrete slab and blocks. After underground pipes have been placed, footers are dug and poured to support these two exterior features. This solid foundation ensures your home will stand up to Florida's elements and last for many, many years.
We strive for quality in everything we do, but it's also important to point out that you don't have to take our word for it. Our work is inspected by county inspectors at each critical juncture. We arrange for each of these inspections as they are required, saving you time and headaches.
Once the reinforced footers have cured, the blocks go up high enough to pour the slab. The concrete is worked while still wet to make your slab smooth and level. This fresh concrete is then allowed to harden over a period of days.
PHASE TWO
Now things really start happening fast. The exterior block goes up in a matter of days giving shape to your new home. Roof trusses are fastened on top with hurricane straps with wind-load standards according to Florida guidelines put in place after Hurricane Andrew. Framers also build the interior walls under the trusses. Decking gets nailed down on the trusses and then dried in with tar paper. Next, the roofing material, shingles or tiles, are added on that. Electrical wires, plumbing, air conditioning ductwork, networking and entertainment cables, and other necessary components are placed in the framing and attic. Once that's complete, we hang drywall over the studs, add crown molding, decorative columns, windows, doors, and paint. Meanwhile, the exterior gets a coat of stucco and a durable paint job of its own.
PHASE THREE
At this point your new house is starting to look like a home… almost. Now we add the details to take things the rest of the way. Cabinets, countertops, plumbing and electrical fixtures, the garage door, air conditioning equipment, the hot water heater, flooring, and appliances are added. Outside, the driveway and walkways are poured, and landscaping is installed. If you have chosen a pool, screen cage lanai, or summer kitchen, these elements will also be nearing completion.
This is one of the most exciting times of the process because all these details have been chosen by you. They reflect your likes and preferences and really transform this new house into your new home. You will literally see your vision become reality.
TIME FOR CLOSING
We know you'll be anxious to move into your new home once it's finished. But first, we at Brigon Homes want to make sure you are completely satisfied about every detail. After all, our reputation is only as good as our customers say it is. Plus, we believe that if something is worth doing, it's worth doing right. So please let us know your thoughts and concerns not only during the walk through at the end, but every step of the way.
Once you are completely thrilled with your new home let's close the deal. It's a proud moment when we hand you your set of keys, and wish you a lifetime of happiness in your new Brigon Home!